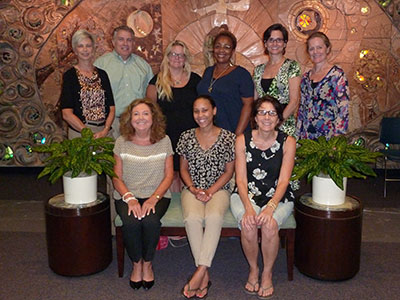 Have you ever wanted to help people improve their lives? Do you find yourself "coaching" your friends and family on ways they can become better, healthier, or happier?
HabitChange Coach Courses:
HabitChange Coach Fundamentals
HabitChange Associate Coach
Coach Residency
Certified HabitChange Coach
HabitChange Coach Fundamentals (14 weeks)
In this course, students undergo personal transformation as they develop skills and competencies as a professional coach. Students learn and become proficient in the ICF Core Coaching competencies as well as learn an effective model of HabitChange. This course is focused on the student's personal development as she learns how to coach. This class concludes with an oral and written mini-exam.
Components of the class will include mindfulness & eight integrated habit areas, personal life planning personal values, defining coaching, personal ethics, overcoming psychological barriers, self management, and branding you as a coach. Upon completion of this course, students will be able to confidently coach clients and begin a part-time or full-time career in coaching. This course concludes with an oral and written exam.
Upon successful completion of this program participants will be able to demonstrate skills in coaching, including the ability to:
Define and distinguish Coaching as a profession, from other helping professions
Create the coach-client alliance
Use mindfulness to effectively raise awareness across 8 life practices
Explore personal thoughts, beliefs, and values and how they affect coaching
Act according to guiding ethical principles, including individual, community and global responsibility
Apply a spiritually-based approach to serve others
Use effective listening skills to deepen client awareness
Facilitate learning for results, help clients break through change barriers
Use supportive methods of holding clients accountable for making change
Access and use intuition to maximize client experience
Implement key skills used in coaching and use positive psychology techniques in coaching
Cost $1879
Requirements:
Participants must hold a minimum of an undergraduate degree.
Exceptions could apply based on work experience.
HabitChange Associate Coach (14 weeks)
This course furthers the student coach's skills in coaching competencies while training the student in HabitChange coaching. Students go through a proprietary process of assessing emotional, physical, and spiritual health across eight integrated life practice areas.
These areas are: resilience, nutrition, exercise, spirituality, learning, friendship, sleep, and simplicity. Students develop a personalized Life Plan for themselves while learning to use this model with clients. This is the same process used by the Habit Change Company to help clients internationally create and sustain behavior change to maximize personal health and wellness.
By the end of Course II, students will:
Develop a personal Life Plan and learn how to use with clients
Learn how to use the Small Step™ process in life planning
Have looked honestly and deeply at their lives across the following life practices: Resilience, Nutrition, Exercise, Spirituality, Learning, Friendship, Sleep, and Simplicity
Help clients use mindfulness as a way to increase their awareness
Learn how to use coaching as an adjunct professional service to help clients manage various health issues
Complete an additional 42 hours of coach training
Cost $1879
Pre-Requisite for HabitChange Associate Coach:
Successful completion of HabitChange Coach Fundamentals course OR completion of an ICF approved foundational coach training program and has coached at least eight different clients over a minimum of six months.
*Non – ICF approved training programs may be accepted if they meet comparable training standards.
Coach Residency (14 weeks)
Coach Residency is designed to further the coach's development and support coaches in their effort to make a global impact. During this residency, coaches will coach in an organization, receive group supervision, do case presentations, and volunteer at their local ICF chapter. Students will read and discuss articles on current events that impact coaching best practices.
This residency will provide students with 42 hours of coach training which can count towards couch certification. Students who have successfully completed HabitChange Coach Fundamentals, HabitChange Associate Coach, and Coach Residency and who have received the required supervision and coaching hours will be eligible to apply for ICF credentialing:
By the end of Coach Residency, students will:
Complete a coaching residency at a local organization
Complete 42 hours of coach training toward the 125 hours required by the ICF
Contribute and discuss case presentations on coaching
Review and discuss current event articles relevant to coaching
Learn how to navigate "sticky situations" in coaching
Receive support in further developing their coaching business
Coaches in this course will:
Strengthen and refine their identity as a coach
Expand knowledge and awareness in issues relevant for coaches
Share and receive ideas and best practices from other professional coaches
Receive and give direct feedback on real coaching challenges
Create and deliver a workshop designed to showcase their coaching practice
Use evidence-based coaching to enhance coaching effectiveness
Meet other local professional coaches
Develop or expand a mindfulness practice
Cost $1879
Pre-Requisite for Coach Residency:
Completion of a Foundational ICF Coach Training Program (30 hours training minimum) and coached at least 8 clients over minimum of 6 months.
* Completion of a non-ICF approved coach
Certified HabitChange Coach
Coaches who have successfully completed HabitChange Coach Fundamentals, HabitChange Associate Coach and Coach Residency as well as met the following requirements are eligible to apply for Certification as a HabitChange Coach (CHCC):
Completed 100 hours of coaching
Completed 2 Supervision sessions
Completed the Certified HabitChange Coach Application and submitted the $435 fee to sit for the final oral and written exam
Pass the oral and written exams
Becoming a Certified HabitChange Coach allows the coach to apply for their Associate Certified Coach (ACC) credential with the ICF. Because HabitChange Coach is an ACTP program with the ICF, once the coach completed 750 hours of coaching, they can submit for their Professional Certified Coach credential with the ICF without taking another oral exam.
Register for the next round of HabitChange Coach training
Cost $1879
Audip clip sample of HabitChange Coach Fundamentals:
This is a 2 minute audio recording taken from one of our virtual classes. All of our courses are experiential, very participatory and packed with learning.
Testimonials
"This has been the best training investment I have made. We were supported from start to finish. I highly recommend this and all their training to everyone." E. Everett Horsley
"Taking the coaching class helped me to enter a new professional venue. The class combines theory, experiential learning, personal meditation and group process. It is a high caliber class which helped me reclaim my talents and celebrate them." Ann David Strohminger
"This class has opened my eyes, challenged me, and provided the foundation for me to begin doing something I was meant to do. My core concern is aligning my SELF with my higher soul's purpose… this class is something which very definitely was a BIG STEP in the right direction. " Nicole Miale, Owner/Publisher "Natural Awakenings" Fairfield County
"I find myself using the coaching skills & techniques I have learned and practiced, just as a part of my regular life –talking with my family and friends, and interacting on a professional level." C. Odian
Schedule of upcoming HabitChange Coach Training Programs
HabitChange Coach Fundamentals Virtual Training February 15- June 8, 2015 Mondays, 6-8PM ET
HabitChange Workshop:  February 28, 2015 from 10AM-1PM at Atlantic Health in Morristown, NJ
Note: Classes must be taken in order as each is a pre-requisite for the next course